TESTIMONIALS
The following individuals have been wearing a ALERT A LINK BRACELET™ and would like to share their testimonials with you. We want to thank them for taking the time to fill out our Testimonial Form and agreeing to provide their Medical stories and experienced benefits of wearing their ALERT A LINK BRACELET™. It is our aim to provide you with this information so that you can feel confident in your decision to order and wear your own ALERT A LINK BRACELET™.
We receive enormous verbal support for our bracelets. The comments we hear most frequently:
"Thank so much for making this bracelet!"
"I have been needing to wear one and could not find one that would give all my medical and personal contact information…and the old style bracelets are so ugly, I love how this fits and looks, I know this is a bracelet I will wear."
"I love how I can change the links and don't have to buy a whole new bracelet."
Comments from our Customers
"I enjoy my bracelet very much, and it gives me a secure feeling to all the information needed on my wrist------without someone having to take the time to call another number----maybe long distance, which in the case of life or death situations, may be the cause of not getting the information soon enough. I don't leave home without it."
Maxine Peters
"My first "alert" bracelet was the type that had a waterproof compartment with waterproof paper. The compartment and paper turned out to be not waterproof. That bracelet was more that twice the price of the ALERT A LINK BRACELET™. The advantages of the ALERT A LINK BRACELET™ are the reasonable cost, ability to add medical information links as needed, attractiveness of the bracelet. Visibility of the medical information links. I think the ALERT A LINK BRACELET™ is a great value and a lifesaver!"
Carolyn Harris
"Thank you so much for the lovely bracelet I just love it and have people asking about it all the time."
S. Walker
"I love my bracelet, I wear it all the time. I know that if I need help they will know where to look and what it is I need help with. I love the visibility of my bracelet. It's easy to notice and easy to read. I like it so much better that the other one I had with the writing on the back, this one is so much better because a doctor can see everything they need about me just by looking at my wrist."
Gary from Grants Pass
Features of the NEW Medical Alert Link Bracelet...

An at a glance medical summary easily readable by EMT's so they can make important life-saving decisions within the first 3-5 minutes of your care.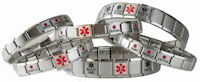 "your medical info at a glance"
Patent Pending