About The ALERT A LINK BRACELET™
The ALERT A LINK BRACELET™ was designed to be the first self-managing medical alert jewelry on the market giving people the ability to add or remove medical or contact information to their bracelets. All bracelets are comprised of hypoallergenic stainless steel spring links. Each link has a spring loaded clasp mechanism which makes it easy to add and remove replacement links with vital personal medical and contact information laser engraved for your medical care. We have designed our ALERT A LINK BRACELETS™ with an interchangeable linking system, so that you can build your own safety, by adding link by link information your Doctor recommends you have for your emergency response care.
All ALERT A LINK BRACELETS™ come with a colored Caduceus (universal symbol used for Medical Alert) and come in 2 sizes; 9mm width and 13mm width and can be made to fit any size wrist by simply adding or removing links. Generally woman and children prefer the narrower 9mm width bracelet and men purchase the wider 13mm width bracelet.
Because of the innovative way the links hook together, it allows the bracelet to stretch over your hand easily. Our expandable ALERT A LINK BRACELETS™ are comfortable for daily wear. There are no latches or chains making it easy for young and old to put on and take off.
How are ALERT A LINK BRACELETS™ different from other medical alert bracelets?
Most medical alert bracelets are fashioned from the old military style ID bracelets, originally designed to identify our military service men. They are made with a solid ID blank that you request to be engraved with your personal ID information and medical information. The engraving is permanent and the information you can add is limited by the size of the ID blank. The ID blank is attached with various style chains you may or may not be able to choose and size. The most expensive bracelets are made of either gold or silver and once you engrave them you can not change them if your medical information changes. You can not include a contact name and number because this information is permanent when engraved and cannot be changed. The inexpensive ID bracelets are probably made of plated steel with either nickel in the ID blank or the chain or both, causing breakouts for individuals with metal sensitivities. The selections are limited for the pre-engraved ID bracelets and are hard to size, difficult to put on and take off and uncomfortable to wear with the chains getting caught on clothing and other various things throughout the day. The pre-engraved bracelets give very little information for your safety and care. The other style bracelet available is one in which you can open up and put your medical information inside. These bracelets are often not water proof and readability depends on your penmanship making your vital medical information either not readable or very difficult to read.
Practically speaking, the first 3-5minutes during any emergency response is the most critical time used for your safety and care, it will not be use by the 1st responder to search through wallets, opening bracelets and trying to read small pieces of paper, trying to turn over ID blanks and decipher worn engraving, reading a medical history on a computer from a thumb drive or calling a toll free number to retrieve your critical care information. For your vital medical information to be used successfully during an emergency it needs to immediately visible and readable. Our ALERT A LINK BRACELET™ is worn on your wrist, the first place for the 1st responder looks. Each ALERT A LINK™ provides your up to date medical information, immediately visible on your wrist. Your bracelet is easily readable one link at a time, providing as much information you need to provide for your safe care. This is the first bracelet on the market that the wearer can self-manage. You can simply add or remove medical information or contact information as your medical needs change. You can build your own safety with the ALERT A LINK BRACELET™ with our interchangeable linking system.
The ALERT A LINK BRACELET's™ innovative design allows for the bracelet to stretch over your hand making it easy to put on and take off and wear all day. One of the most important features of a medical alert bracelet is its wear ability. Many people have purchased other medical alert bracelets in the past that they do not wear because they are "ugly" and uncomfortable. Our ALERT A LINK BRACELET™ is like medical jewelry, being both stylish and attractive. It is worn comfortably without calling attention to your medical conditions yet is readable when necessary.
See Frequently Asked Questions for answers to questions you may have about the ALERT A LINK BRACELETS™.
Features of the NEW Alert A Link™ Bracelet...

An at a glance medical summary easily readable by EMT's so they can make important life-saving decisions within the first 3-5 minutes of your care.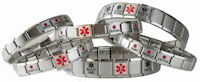 "your medical info at a glance"
Patent Pending