Customer Service and Policies
We aim to be innovative in our product development and marketing traditional in our approach to customer service and satisfaction. Above all we respect and care for our customers. We will strive to provide a ALERT A LINK™ for any personal medical need or contact information requested. Our goal is to provide the first medical alert bracelet that can be self-managed by the wearer.
Our Standard Shipping Policy
Orders are shipped with in 7-10 days of receipt. All orders must be paid in full before shipping. Please arrange for your items to be shipped to a secure P.O. Box or Mail Box. All order will be shipped First Class US Mail and will follow standard delivery times according to your location from us in Southern Oregon. Delivery could take up to 10 days depending on your location.
100% Satisfaction Guarantee
Our ALERT A LINK BRACELET™ are guaranteed to provide you with the information you requested and with the style of bracelet you ordered. Please contact us immediately if there was a mistake made with your order. We will make correction and ensure you are 100% Satisfied with your order.
30 Day Money Back Guarantee
If you are not satisfied with your ALERT A LINK BRACELET™ within the first 30 days of wearing it, call or email us we will make all attempts to solve any problem or dissatisfaction you may be having with your ALERT A LINK BRACELET™. If by working together we are unable to solve your concerns we will refund your money. All orders must be received before a refund is credited to your card. We highly recommend you send your order insured for the amount paid, we are not responsible for orders returned and not received. Credit will be made for the amount of the returned product less shipping charges.
ALERT A LINK™
PO Box 98
Jacksonville Oregon 97530
(541) 899-3403
Email: info@alertalink.com
Features of the NEW Medical Alert Link Bracelet...

An at a glance medical summary easily readable by EMT's so they can make important life-saving decisions within the first 3-5 minutes of your care.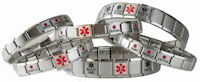 "your medical info at a glance"
Patent Pending