How to Order my ALERT A LINK BRACELET™
Ordering is easy. You first choose from our two basic bracelet widths - 9mm (women's) or 13mm (men's). Then add to your order the Alert Links™ you may need for your emergency response care.
For answers to questions about what information to include, how do I size my bracelet, how to add and remove links and more, go to our section Frequently Asked Questions.
For questions about ordering, call us at (541) 899-3403 or email us at info@alertalink.com.
Features of the NEW Medical Alert Link Bracelet...

An at a glance medical summary easily readable by EMT's so they can make important life-saving decisions within the first 3-5 minutes of your care.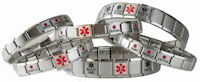 "your medical info at a glance"
Patent Pending