MEDICAL ALERT LINK BRACELETS
"The new medical alert bracelet."
The first medical alert where the medical information can be self-managed by the wearer.
You can make changes as your medical needs change.
Easy to make vital life saving changes without ordering a whole new bracelet.
This is the first bracelet that is stylish medical jewelry.
Easy to read when needed but does not announce to the world your medical conditions.
FACT
EMTS do not rely on wallet cards or 800#'s for their life saving decisions.
Features of the NEW
Alert A Link™ Bracelet
An at-a-glance medical summary easily readable by EMT's so they can make important life-saving decisions within the first 3-5 minutes of your care.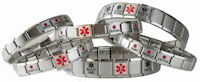 "your medical info at a glance"
Patent Pending